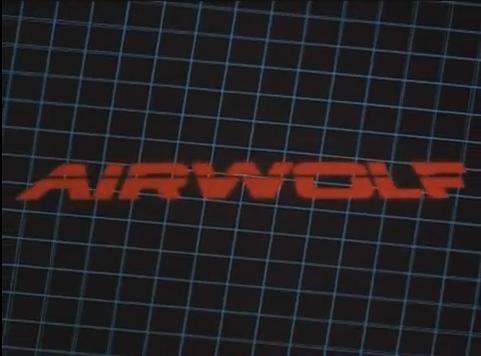 Airwolf is an American television series that ran from 1984 until 1987. The program centers on a high-tech military helicopter, code named Airwolf, and its crew as they undertake various missions, many involving espionage, with a Cold War theme.
The show was created by Donald Bellisario. The first three seasons star Jan-Michael Vincent, Ernest Borgnine, Alex Cord, and (from the second season onwards) Jean Bruce Scott. After the original series was cancelled, a fourth season, with an entirely new cast and on a much smaller budget, was filmed in Canada for the USA Network.
The show's distinctive musical score, which was originally orchestral-based and shifted to more synthesizer-oriented arrangements early in the second season, was composed and conducted mainly by Sylvester Levay. Udi Harpaz conducted the scores for many later second and third season episodes.
The series' protagonist is Stringfellow Hawke (Jan-Michael Vincent), a loner who lives in a cabin outside of Los Angeles, California in a remote mountain area that was based at Lake Hemet, accompanied only by his Bluetick Coonhound, "Tet", and the surrounding wildlife. Hawke is a recluse, spending most of his time alone with his priceless collection of paintings which he inherited from his grandfather (the art was a gift for his grandmother), and serenading eagles with his equally priceless Stradivarius cello. His only real friend and mentor is the older, eternally cheerful Dominic Santini (Ernest Borgnine) who raised Stringfellow and his brother Saint John (pronounced "sin-jin") after their parents died. Stringfellow's father and Dominic flew in World War II together. [1][2]Bell 222 as Airwolf.Earlier, Hawke was a test pilot for Airwolf, an advanced supersonic helicopter with stealth capabilities and a formidable arsenal. Airwolf was built by the FIRM, a division of the CIA (a play on the term "the Company", a nickname for the CIA). Airwolf was stolen by its twisted creator, Dr. Charles Henry Moffet (David Hemmings). Michael Coldsmith Briggs III (Alex Cord), the FIRM's deputy director (codename Archangel), then asks Hawke to go to Libya to retrieve the helicopter. Archangel has a blind left eye and walks with a limp as a result of having been caught in the carnage Moffet unleashed when he stole Airwolf.
Fearing that Hawke would refuse the mission to recover Airwolf, the FIRM confiscates his art collection, leaving Gabrielle (Hawke's pilot-episode love-interest, played by Belinda Bauer) behind to brief him for his mission. A week later, after an undercover operative is killed in the line of duty, Gabrielle is sent in undercover with Hawke being sent in sooner than originally planned. With Santini's assistance, Hawke finds and recovers Airwolf but chooses not to return it. Instead, he and Santini hide Airwolf, booby trapped, in a washed out mesa, that had eroded into a large cave, Hawke calls "the Lair," located in the remote "Valley of the Gods," which is visually modeled on Monument Valley. Hawke refuses to return Airwolf until the FIRM can recover his brother, St. John, who has been missing in action since Vietnam. To get access to Airwolf, Archangel offers Hawke protection from other government agencies who will try to recover Airwolf in exchange for flying missions of national importance for the FIRM.
In the second season, to satisfy CBS executives who wanted to appeal to a wider female audience, the show introduced Caitlin O'Shannessy, played by Jean Bruce Scott. Caitlin is a feisty former Texas Highway Patrol helicopter pilot who eventually joins Airwolf's crew. In "Fallen Angel" Hawke confirms Caitlin's suspicions that he and Santini possess and operate a super helicopter as the three fly Airwolf into East Germany to recover Archangel.
The mysterious organization known as "The FIRM" is a covert branch of the Central Intelligence Agency, whose Deputy Director, Michael Coldsmith Briggs III (Alex Cord), is code-named Archangel.
In the first two seasons, Archangel is often assisted by Marella (Deborah Pratt). She had doctorates in Aeronautical Engineering, Electronic Engineering, Psychology, Microbiology, and French Literature, and was one year away from completing her Medical Doctorate as of the episode "Fallen Angel." Marella is last seen in the second season closing episode "Short Walk to Freedom;" in the third season, her place was taken by a number of different actresses.
The first season of the series was dark, arc-driven, and quite reflective of the contemporary Cold War, with the FIRM personnel distinctly dressed in white, implicitly boasting that "wearing white hats" distinguished them as good, instead of evil. Hawke remained unconvinced, and Santini was skeptical also; this was explained in "Daddy's Gone a Hunt'n." Early episodes frequently detailed the efforts of the United States government to secure Airwolf from Hawke who is officially charged with having stolen it. Because CBS wanted to make the series more family-oriented, the program was transformed during Season Two into a more light-hearted show with Hawke and Santini being portrayed as cooperative partners with the FIRM (see below for more behind the scenes information).
The FIRM, during the first three seasons, served as both ally and enemy for Hawke and Santini; when an opportunity to seize Airwolf presented itself, FIRM operatives often took it.
Production history
Edit
Main article: List of Airwolf episodesThe series ran for 55 episodes on CBS in the United States in 1984 through 1986, and an additional 24 episodes, with a new cast and production company, aired on the USA Network in 1987, for a total of 79 episodes. A reedited version (produced in Germany) of the first episode was also released on home video in the UK and several countries; it received a theatrical release in Indonesia.[1] The show was broadcast in several international markets.
Magnum, P.I. connectionEdit
Creator Donald P. Bellisario first toyed with the idea of the adventures of an ace combat pilot in a third season episode of Magnum, P.I. entitled "Two Birds of a Feather" (1983), starring William Lucking, which itself was inspired[citation needed] by several episodes of Bellisario's Tales of the Gold Monkey – "Legends Are Forever" and "Honor Thy Brother" (1982) – in which Lucking had played a similar character. The Magnum episode acted as the pilot for the would-be series, but the series was not commissioned. Bellisario heavily reworked the idea, and the final result was Airwolf.[citation needed]
Seasons 2 and 3
Edit
To increase ratings the studio wanted to add a female character – which happened at the start of the second season in the form of feisty Caitlin O'Shannessy (Jean Bruce Scott) – and for the series to move away from its quite dark and moody tales of international espionage into a more domestic and straight action-oriented affair. Airwolf became more streamlined, domestic, and self-contained. The moves by CBS ultimately proved unsuccessful, however, and while production cost over-runs remained high, creator Bellisario left both the studio and the series after Season 2. Bellisario's then wife, Deborah Pratt also left at the same time having been nearly 3 months pregnant with their daughter, Troian as Season 2 drew to a close.[citation needed] Bernard Kowalski stepped in as executive producer for a third season, but after ratings remained low, the series was canceled by CBS. The USA cable network, however, funded a new and Canadian-filmed, fourth season of episodes, produced via the fledgling production company Atlantis and The Arthur Company owned by Arthur L. Annecharico in association with MCA, allowing the show to have enough episodes for syndication runs.
The original cast was completely written out of the fourth season (1987); only Jan-Michael Vincent appears in the first, transitional episode. Dominic, played by a double for Ernest Borgnine who is seen only from the back, was killed off in an explosion; Archangel was said to have suddenly been assigned overseas, with "the FIRM" replaced by "the company" (a long-standing nickname for the CIA in the real world); and no mention was made of Caitlin. Saint John Hawke, now played by Barry Van Dyke, was suddenly revealed to be alive and well, having been working for many years under deep cover for American intelligence (there were already contradictory statements about his fate, the FIRM and Archangel knew where he was the whole time and was just using Stringfellow Hawke to control Airwolf in the original three seasons). St. John was rescued and subsequently replaced Stringfellow Hawke as the central character. Production moved to Vancouver, British Columbia, Canada, with a smaller budget, less than one-third of the original CBS budget. The production crew no longer had access to the original Airwolf helicopter, and all in-flight shots were recycled from earlier seasons; the original full-size studio mockup was re-dressed and used for all interior shots. Actress Michele Scarabelli, who played Jo Santini, said in a Starlog magazine interview that all 24 scripts were in place before the cast arrived, leaving the actors little room to develop their characters.
The Airwolf helicopterEdit
Main article: Airwolf (helicopter)The flying Airwolf helicopter was actually a Bell 222, serial number 47085, sometimes unofficially called a Bell 222A.[2] During filming of the series, the helicopter was owned by Jetcopters, Inc. of Van Nuys, California.[3] The helicopter was eventually sold after the show ended and became an ambulance helicopter in Germany, where it crashed in a thunderstorm and was destroyed on June 6, 1992, killing all three crew members.[4]
The concept behind Airwolf was a supersonic and armed helicopter that could blend in by appearing to be civilian and non-military in origin — "a wolf in sheep's clothing". Airwolf's insignia patch, as designed by artist Andrew Probert and, as worn by the flight crew members, was a snarling wolf's head with bat wings that appeared to be wearing a sheepskin, complete with the head of the lamb over the wolf's forehead; a direct play on the saying.
At the close of filming, Jetcopters used the Santini Air helicopter to fly sightseeing tours of Los Angeles.[citation needed]
Regular cast
Edit
Season 1 (CBS, Spring 1984) — two-hour pilot and ten additional episodes.
Seasons 2–3 (CBS, 1984–1986) — two seasons of 22 episodes each.
Season 4 (USA Network, Spring–Summer 1987) — 24 episodes, bringing the total hours to 80.
Merchandise
Edit
There was also a series of tie-in novels printed by Star, adapted from the scripts of various episodes, and coloring books for younger fans (printed in the UK by World Publishing), as well as a UK annual, which, despite being produced in 1985 (to cover 1986), was based around the first season. For several years, the children's TV comic / magazine Look-In ran an Airwolf comic strip to tie in with the original UK broadcast of the series.
Video games
Edit
Syndication
Edit
A syndication package does exist and occasionally appears as re-runs.
VHS and DVD releases
Edit
Universal Studios Home Entertainment has released the first 3 seasons of Airwolf on DVD in regions 1, 2 & 4. Earlier releases consisted of single episodes on VHS (double episodes in the UK and some countries, edited together into "movie" format; later in the UK, a selection of first and season episodes were released by Playback on both VHS and DVD), most notably a United Kingdom 18 certificate cut of the pilot episode, presented as a standalone film (reshuffling and reworking many scenes, and removing much of the continuity ties with the following series, as well as incorporating footage from the first season episode "Mad Over Miami", and with profanity that was not present in the aired version).[14][15]
Season 4 was released in Region 1 on February 1, 2011.[16]
On September 6, 2011, Shout! Factory released Airwolf: The Movie on DVD in Region 1 for the very first time. This 1-disc set features the 2hr pilot tele-film fully restored and uncensored. It also contains special features including a new interview with Ernest Borgnine.[17]
DVD Name
Ep#
Release dates
Region 1
Region 2
Region 4
Season One
12
May 24, 2005
April 3, 2006
December 5, 2006
Season Two
22
December 26, 2006
March 12, 2007
May 2, 2007
Season Three
22
May 22, 2007
August 13, 2007
September 5, 2007
Season Four
24
February 1, 2011
N/A
N/A
References
Edit
External links
Edit