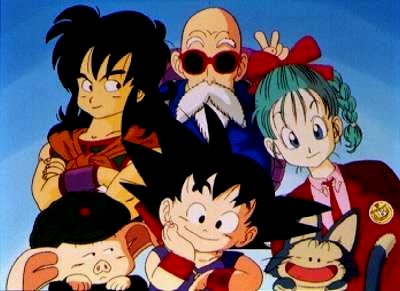 Toei Animation produced an anime series based on the manga chapters, titled Dragon Ball. The series premiered in Japan on Fuji Television on February 26, 1986 and ran until April 12, 1989, lasting 153 episodes.[5]
Harmony Gold USA licensed the series for an English-language release in the United States in 1989. In their voice dub of the series, Harmony renamed almost all of the characters, for example, Goku was renamed "Zero." This dub version was test-marketed in several cities, but was cancelled before it could be broadcast to the general public.
In 1995, Funimation Entertainment acquired the license for the distribution of Dragon Ball in the U.S., as well as its sequel series Dragon Ball Z. Funimation contracted BLT Productions to create an English voice track for the first anime at their Canadian-based dubbing studio and the dubbed episodes were edited for content.[27] Thirteen episodes aired in first-run syndication during the fall of 1995 before Funimation cancelled the project due to low ratings and decided to shift their focus on the more action-oriented Dragon Ball Z. Vidmark Entertainment (later known as Trimark Pictures) purchased the home video distribution rights for these dubbed episodes sometime after.[5] In March 2001, following the success of Dragon Ball Z on Cartoon Network, Funimation announced the return of Dragon Ball to American television, featuring a new English audio track produced at their own Texas-based dubbing studio, as well as slightly less editing, and left the original background music intact unlike their dubs of the two sequel series.[27][28] The re-dubbed episodes aired on Cartoon Network from August 20, 2001 to December 1, 2003.[29] Funimation also broadcast the series on Colours TV and their own Funimation Channel starting in 2006.[30]
Funimation began releasing their in-house dub to Region 1 DVD box sets in March 2003. Each box set, spanning an entire saga of the series, included the English dub track and the original Japanese audio track with optional English subtitles. However, they were unable to release the first thirteen episodes at the time, due to Lionsgate Entertainment holding the distribution rights to their original dub of the same episodes, having acquired them from Trimark after the company became defunct. After Lionsgate's license to the first thirteen episodes expired in 2009, Funimation remastered and re-released the complete Dragon Ball series to DVD in five individual season box sets, with the first set released on September 15, 2009 and the final set released on July 27, 2010.