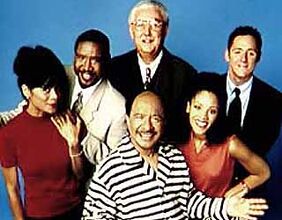 Goode Behavior was a UPN network sitcom created by Robert Illes, Brian & Dennis Pollack and Mert Rich, starring Sherman Hemsley.
The show premiered on August 26, 1996 and the other cast members of the series were Dorien Wilson, Alex Datcher, Bianca Lawson, Joseph Maher, Justina MAchado, Marc McClure, Scott Grimes and Gabrielle Union.
After 23 episodes, "Goode Behavior" was cancelled on May 19, 1997.
Willie Goode (Sherman Hemsley) is a newly paroled convicted con artist. He is also the father of Franklin Goode (Dorien Wilson), his estranged son.
Franklin is a college professor, and is in the process of being promoted to "Dean of Humanities" at "Chapel Hill University" in Chapel Hill, North Carolina.
The two of them must peacefully co-exist when Willie arrives at Franklin's house (un-announced) to fulfill the conditions of his probation; he must live at his son's house, under house arrest. Caught in the middle of the family feuding are Franklin's wife Barbara (Alex Datcher), a local news anchor and their teenage daughter Bianca (Bianca Lawson).