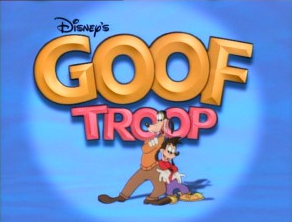 Disney's Goof Troop is an American animated television series from The Walt Disney Company featuring Goofy as a father figure and bonding with his son Max.
Goof Troop bears similarity to several early-1950s Goofy cartoon shorts which depicted Goofy as a father to a mischievous red-haired son.
Goofy, a single father, moves back to his hometown of Spoonerville with his 11-year-old son, Max. As it happens, Goofy and Max end up moving in next door to Goofy's high school friend: Pete, a used car salesman and owner of Honest Pete's Used Cars; Pete's wife Peg, a real estate agent; and their two children, 11-year-old son P.J. (Pete Jr.) and 4-year-old daughter Pistol with long red hair. Max and P.J. become the best of friends and do practically everything together. A large portion of humor comes from the relatively normal Max's personality sharply contrasting with his father.
Broadcast history and feature films
Edit
Goof Troop was originally previewed on The Disney Channel beginning in April 1992. Like its predecessors DuckTales, Chip 'n Dale Rescue Rangers, TaleSpin and Darkwing Duck, Goof Troop was previewed in syndication with a pilot TV movie, which later aired as a multi-part serial during the regular run. The series aired on The Disney Afternoon block of syndicated animated series during the 1992-1993 broadcast season; concurrent with the Disney Afternoon shows, another 13 episodes aired on Saturday mornings on ABC. Reruns of the series later aired on The Disney Channel and later on sister cable channel Toon Disney. Reruns were shown on Toon Disney until January 2005. The program made a return from September 2006 until August 2008, and the Christmas Special still aired on Christmas (although is unknown if the special will be ever shown on Toon Disney's replacement Disney XD) in the United States.
Goof Troop was adapted into the feature film A Goofy Movie (1995) and its direct-to-video sequel, An Extremely Goofy Movie (2000). Both films take place a few years after the series. The two movies featured Bill Farmer, Rob Paulsen and Jim Cummings reprising their character roles from Goof Troop in these two movies, with Jason Marsden providing the voice of a now-teenager Max. Dana Hill, who provided the voice of Max, died on July 15, 1996, after suffering a massive stroke related to her diabetes.
Character and place titles
Edit
Pete's wife Peg is a play on "Peg Leg Pete," one of Pete's names in the classic Disney shorts. Likewise, his daughter Pistol is a play on another such name, "Pistol Pete."
The town of Spoonerville is named after layout artist J. Michael Spooner, who designed many of the background layouts for the series.
In "Axed by Addition," Max uses the "Doctor Howard, Doctor Fine, Doctor Howard" line to distract the doctors from performing surgery on PJ. This line was from the Three Stooges short, Men in Black.
Characters
Edit
Main cast
Edit
Other characters
Edit
Goof History cast
Edit
Fester (Ness) Swollen, is Ancestor Goofy's partner, voiced by Michael Gough).
Goofy Knock Knees, is Goofy's first ancestor that appears in the episode, "Goofin Hood and His Melancholy Men", the first of the "Goof History" episodes. A spoof of Robin Hood.
Elliot Goof, is Goofy's second ancestor that appears in the episode, "The Ungoofables", the second of the "Goof History" episodes. A spoof of The Untouchables.
Sherlock Goof, is Goofy's third ancestor that appears in the episode, "Sherlock Goof", the third of the "Goof History" episodes. A spoof of Sherlock Holmes.
Mopalong Goofy, is Goofy's fourth ancestor that appears in the episode, "Gunfight at the Okie Dokie Corral", the fourth of the "Goof History" episodes.
Caveman Goof, is Goofy's fifth and final ancestor that appears in the last episode, "Clan of the Cave Goof", the last of the "Goof History" episodes
Additional Voice Cast
Edit
Kath Soucie - Debbie, Max's cousin and Goofy's "niece".
Kevin Michael Richardson -
June Foray -
Linda Gary -
Gary Owens - Mr. Hammerhead
Andrea Martin - Mrs. Williby
Barry Gordon -
Tress MacNeille - Peg (Additional Lines)
Hal Rayle -
Tino Insana - Colonel Carter
Miriam Flynn -
William Windom - General Robert T. Sparrowhawk
Charlie Adler -
Jackson Beck -
Sid Raymond -
Stan Freberg -
Tom Kenny -
Main article: List of Goof Troop episodes
In addition to the animated series, Goof Troop was adapted into various comic strips,[1] which were printed in several Disney comic books, such as Disney Adventures and Disney's Colossal Comics Collection.
Home release
Edit
Disney Released 3 VHSs in 1993 titled Banding Together!,[2] Goin' Fishing[3] and The Race is on!.[4] They included the episodes: Shake, Rattle and Goof, Close Encounters of the Weird Mime, Slightly Dinghy, Wrecks, Lies and Videotape, Meanwhile, Back at the Ramp and Tub Be or Not Tub Be.
On February 14, 2006, Walt Disney Studios Home Entertainment released Goof Troop: Volume 1 on DVD in Region 1.[5] This one-disc release features three episodes, including "Slightly Dinghy", "Wrecks, Lies & Videotape' and "Shake, Rattle & Goof", with no bonus material. Many fans didn't buy Goof Troop Volume 1 because it has only three episodes. As for right now, many fans are still waiting for Disney to put out Goof Troop Volume 1 again with more episodes.[6] The DVD release of A Goofy Movie feature one episode titled "Calling All Goofs", but the intro is removed. A Disney Movie Club exclusive DVD titled Have Yourself A Goofy Little Christmas contains the holiday special of the same name.
| DVD name | Ep # | Release date |
| --- | --- | --- |
| Goof Troop | 3 | February 14, 2006 |
External links
Edit