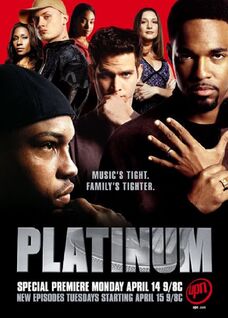 Platinum was a UPN network drama TV series that was written by John Ridley & Sofia Coppola.
The show premiered on April 14, 2003 and starred Jason George, Sticky Fingaz, Lalayna Masters, Davetta Sherwood, Vishiss, Steven Pasquale, Sarah Manninen and Tony Nardi.
After airing only 6 episodes, "Platinum" was cancelled on May 13, 2003.
"Platinum" was about brothers and record industry moguls Jackson and Grady Rhames, who the archetype of rags-to-riches success after building their company, Platinum Records, from the ground up.
Clawing their way up from the streets, the brothers have created a successful record company in the high-stakes hip-hop music business. Even though they are deeply trusting of and dependent upon one another, the Rhames brothers approach business in starkly contrasting fashions.
Set in New York City against the backdrop of the glamorous hip-hop lifestyle, the series portrays a cutthroat and sometimes dangerous business notorious for its flashy stars with money to burn and ruthless record executives who stop at nothing to make it big.
Standing by the brothers' side is their childhood friend and chief counsel David Weitz, their younger sister Jade Rhames and Jackson's wife Monica Rhames.
Sticky Fingaz as Grady Rhames
Jason George as Jackson Rhames
Lalanya Masters as Monica Rhames
Davetta Sherwood as Jade Rhames
Vishiss as VersIs
Tony Nardi as Nick Tashjian
Steven Pasquale as David Ross
Sarah Manninen as Olivia Ross