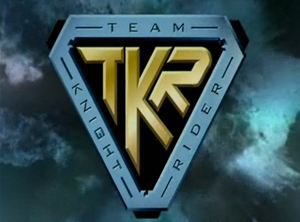 Team Knight Rider (TKR) is a syndicated television series adapted from the Knight Rider franchise that ran between 1997 and 1998. TKR was created by writer/producers Rick Copp and David A. Goodman, based on the original series created by Glen A. Larson, who was an executive producer. TKR was produced by Gil Wadsworth and Scott McAboy and was distributed by Universal Domestic Television and ran only a single season of 22 one-hour episodes before it was canceled due to poor ratings.
The story is about a new team of high-tech crime fighters assembled by the Foundation for Law and Government (FLAG, formed by Wilton Knight) who follow in the tracks of the legendary Michael Knight and his supercar KITT. Instead of "one man making a difference", there are now five team members who each has a computerized talking vehicle counterpart. Like the original duo, TKR goes after notorious criminals who operate "above the law" – from spies and assassins, to terrorists and drug dealers. The final episode of the season, and series, featured the reappearance of Michael Knight, seen only from behind, at the very end.
Team Knight Rider members
Edit
Other FLAG members
Edit
Other prominent characters
Edit
Team vehicles
Edit
Team Knight Rider use five different vehicles for their missions, each with its own computer AI system like the original Knight Industries 2000 vehicle. Unlike KITT, these are specialized units with specific roles in the team. In addition, after the K.R.O. incident, Garland has had each vehicle installed with intentional weaknesses to act as a fail-safe in case any of them go rogue.
Although armored to protect their occupants, the vehicles do not share the original KITT's nearly indestructible "molecular bonded shell". Bullets can shatter windows or blown open with a small explosive, for example, while body panels can be damaged in collisions and roll-overs. The vehicles deploy their own self-repair system enabling the cars to fix their own minor damage – shattered windows and crushed body panels have been shown "fixed" soon after taking damage. More severe impacts however, require body shop maintenance to repair the vehicles.
Other vehicles
Edit
Sky One (SKY-1), (voiced by Linda M. McCollough), is a massive C5 military cargo airplane with special VTOL capability. Sky One acted as TKR's mobile base and vehicle transport, and carries a crew of 65, including the TKR field operatives, the flight crew, maintenance crew, mechanics, fire crew, kitchen staff, and medical staff.
K.R.O., (pronounced Crow, an acronym for Knight Reformulation One) was supposed to have been the replacement for KITT (however the TKR series gives no mention of the Knight Rider 2000 TV movie, where the Knight 4000 was KITT's original replacement). KRO is a modified black Ferrari F355 with a highly unstable AI that parallels KARR. After events that led to his murdering of five people, KRO was deactivated. KRO's operator, Martin Jantzen, was equally unstable. KRO later escapes to kill his creator and FLAG is forced to destroy him. KRO was voiced by John B. Wells.
K.A., short for Knight Alpha, a prototype vehicle introduced in "Legion of Doom" for a possible European Knight Rider team being prepared for delivery to Berlin. KA is a European-made Ford Ka compact hatchback. KA only speaks German. (He is capable of many languages, but chooses to speak German.)
Episode list
Edit
| Ep# | Title | Original airdate | Description |
| --- | --- | --- | --- |
| 101 | Fallen Nation | October 6, 1997 | The team rescues a supposed kidnapped general, only to uncover he is behind a plot to detonate a nuclear bomb over Washington D.C. |
| 102 | The Magnificent TKR | October 13, 1997 | The team goes after a foreign spy who has stolen a top-secret device and smuggled it to Mexico. |
| 103 | The 'A' List | October 20, 1997 | The team infiltrates a mega-corporation believed to be responsible for the deaths of scientists developing competitive technologies. |
| 104 | K.R.O. | October 27, 1997 | The team goes after a crazed Ferrari super car called the "Knight Reformulation One" which escaped while being transported for reprogramming. Episode dedicated to Edward Mulhare who died earlier that year. |
| 105 | Inside Traitor | November 3, 1997 | Erica's loyalty is questioned when she rejoins an elite gang of thieves during an undercover assignment. |
| 106 | Choctaw L-9 | November 10, 1997 | After a mishap, Kyle is suspended as leader or TKR and the rest of team must deal with a hardball FBI agent that replaces him while searching for a stolen prototype military helicopter. |
| 107 | Everything to Fear | November 17, 1997 | An assassin kidnaps Jenny and uses her to force TKR to work for him during his next hit. |
| 108 | Sky One | November 24, 1997 | Sky One is hijacked by terrorists who threaten the TKR team's lives with a deadly nerve agent. |
| 109 | The Iron Maiden | December 1, 1997 | The team must destroy three power-suited super-soldiers under Starr's control. |
| 110 | Oil and Water | December 8, 1997 | The team goes after an insane engineer bent on sabotaging the automotive industry. |
| 111 | Et Tu Dante? | January 5, 1998 | While hunting down a terrorist bomber, the TKR vehicles are taken over by a strange computer virus and turn against their drivers. |
| 112 | The Bad Seed | January 12, 1998 | The team goes after a mad scientist who threatens to poison the world's largest rivers. |
| 113 | Out of the Past | January 19, 1998 | Kyle's past comes to haunt him when the team discovers he is wanted for robbery in South America. |
| 114 | The Return of Megaman | January 26, 1998 | The team searches for a neutron bomb hidden in New Mexico that threatens to kill millions if detonated. |
| 115 | Angels in Chains | February 3, 1998 | Jenny is accused of government espionage and the rest of the team work to clear her of the allegations. |
| 116 | The Blonde Woman | February 10, 1998 | The team desperately hunts down an elusive assassin known as Eve before she can claim another victim. |
| 117 | The Ixtafa Affair | February 16, 1998 | Jenny finds that an ex-boyfriend is involved with busting a Guatemalan drug lord from prison. |
| 118 | Home Away From Home | February 23, 1998 | The team works to capture a notorious hacker who has fled to a strange little town in Iowa before enemy agents intercept her first. |
| 119 | E.M.P. | April 27, 1998 | TKR goes in search of a stolen Electro Magnetic Pulse weapon that can shut down electronics for miles. |
| 120 | Apocalypse Maybe | May 4, 1998 | The team goes after an insane reverend destined to destroy Las Vegas with an earthquake machine. |
| 121 | Spy Girls | May 11, 1998 | TKR must join forces with a team of undercover women in search of a stolen microfiche that contains the formula for a deadly nerve agent. |
| 122 | Legion of Doom | May 18, 1998 | TKR has a showdown with a nemesis agent known as Mobius and his team of criminal masterminds who he has recently sprung from prison. |
External links
Edit