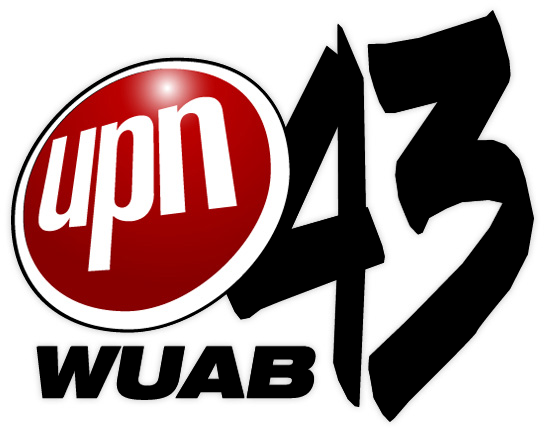 WUAB, identified on-air as "UPN 43", was the former UPN affiliate in Cleveland, Ohio. The station is licensed to the suburb of Lorain, and it shares a studio in downtown Cleveland with sister station WOIO, Cleveland's CBS affiliate. Its transmitter is located in Parma, Ohio. The station also served as the default UPN affiliate for Erie, Pennsylvania, and was available on most cable systems in northwest Pennsylvania (although WUAB is presently absent from Time Warner's City of Erie lineup).
Prior to 1995, WUAB was one of the leading independent stations in the country; it was Cleveland's UPN affiliate from 1995 to 2006. The station, along with WOIO, is currently owned by Raycom Media and are the largest stations in that group.
In 1994, WOIO became the market's CBS station after an affiliation swap with the area's longtime CBS affiliate, WJW, On September 5 of that year, Channel 19 moved most of its sitcoms and syndicated cartoons to WUAB, with Fox Kids moving to WBNX. WOIO also moved it's Cleveland Cavaliers telecasts over to channel 43 as well (channel 19 had originally signed the Cavs away from WUAB in 1987, but could no longer air the games due their new CBS affiliation).
Channel 43 ended its long run as an independent on January 14, 1995, when it became the market's affiliate for both the UPN and WB networks, with UPN - co-owned by Paramount (through its parent Viacom) which as mentioned above produced the Star Trek series - as the primary affiliation (UPN's first program was Star Trek: Voyager). At the time, Cleveland was one of the largest markets not to have separate WB and UPN affiliates. The dual-affiliation did not cause channel 43 any problems at first, as both networks only programmed a couple of nights a week. Current owner Raycom purchased Malrite in 1996.
On September 1, 1997, WUAB became solely affiliated with UPN, after The WB signed an affiliation deal with WBNX. When the Federal Communications Commission began allowing television duopolies in 2000, Raycom purchased channel 43 outright on May 10 of that year. WUAB dropped the bulk of its children's programming (beyond the FCC-required 3 hours of E/I-compliant programming) to carry more infomercials in 2003. As of 2010, WUAB offers advertisers more infomercials time slots than any other Cleveland area broadcaster; an average of 60 half hour infomercials per week. This fills a large part of WUAB's weekend dayparts and overnight schedules.